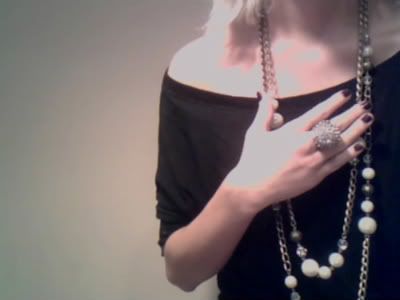 Wore these out with a girlfriend tonight! Honestly, when I initially saw the mark Super Dome ring on the website, I didn't think it would be my style at ALL. I'm don't tend to go for a lot of glitz, but when I tried it on I have to say I kind of fell in love with it and this is why... had a little flashback, actually!
Remember when we were a kiddos and played dress up with our girlfriends? We tended to reach inside the jewelry box for the piece that had the most bling and sparkle and our moms would laugh and say, "Well, don't you look gaudy?" Well, this ring is *like* that experience except it's currently SO on-trend that now we're allowed to rock it out! And as an adult! Aren't we lucky?!

In person, the Cluster Luster necklace is heavier than it appears on the site. It has almost an "antiquey" vibe to it and I just love it! Sorry the photo quality isn't great! I just got back from NYC and had to use my webcam because I can't find the cord for my better cam (I thought it was stuffed in my suitcase, but apparently not!).